Jen Knutson
adrenal, adrenal fatigue, amenorrhea, blood sugar, breakfast, chocolate, cortisol, depression, emotional health, emotional wellbeing, food and mood, food as medicine, gut, gut health, hormone health, hormones, inflammation, insulin resistance, low-carb, mental health, mental wellbeing, mood, nutritional medicine, Paleo, PCOS, physical health, thyroid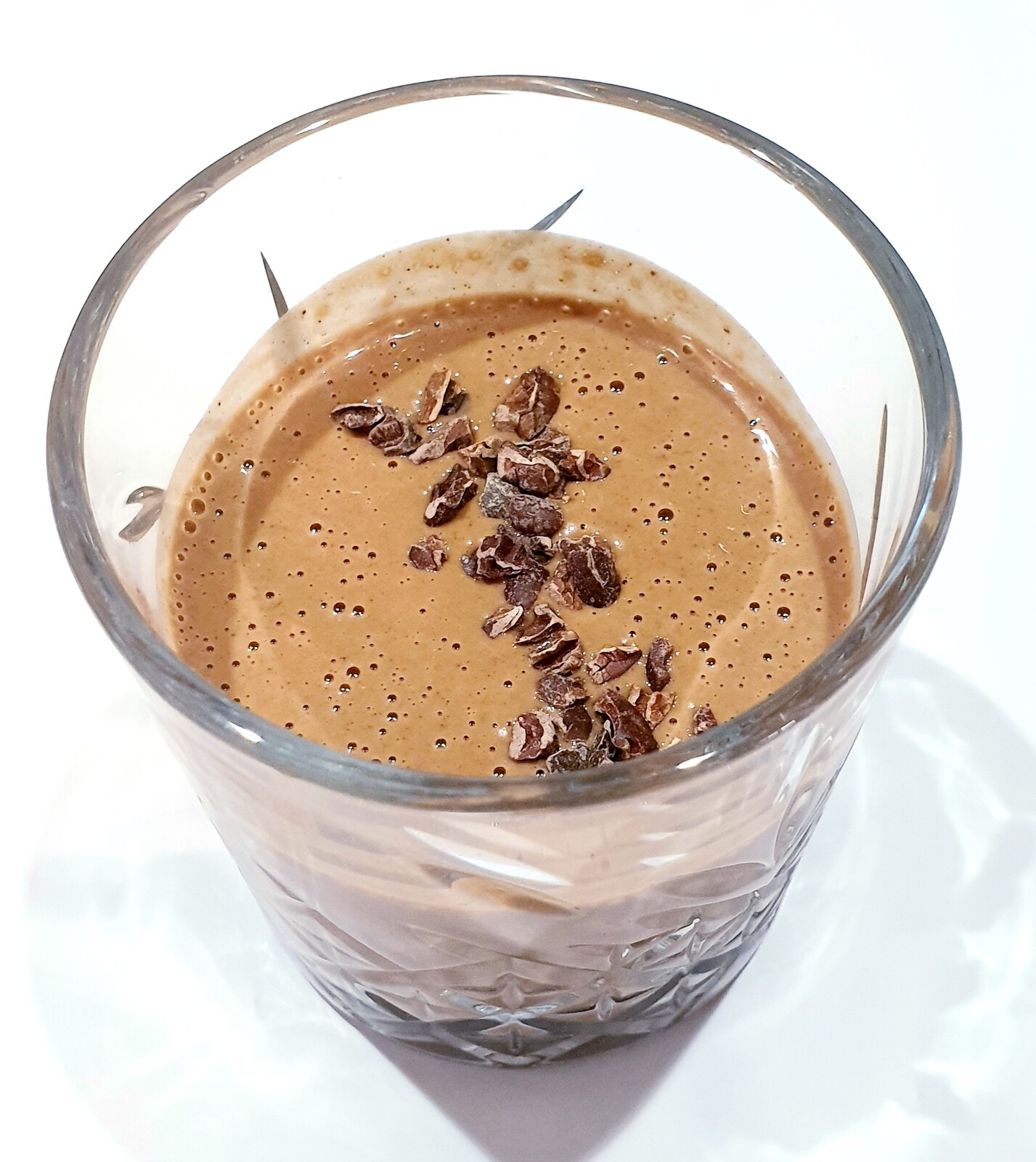 When it comes to healthy eating, breakfast seems to be the meal that most people struggle with. Thankfully, that has never been an issue for me because I love smoothies!
I have been having a smoothie for breakfast for the better part of decade! Well, longer if I am being really honest!
As my knowledge of gut and hormone health has evolved, so too has my morning smoothie. No more milk and banana smoothies, where I literally just put in some low-fat milk and a banana! I cringe at the thought now. This was just before I lost my menstrual cycle for two years -- coincidence? Probably not!
The Ultimate Gut and Hormone Loving Smoothie is jam packed with everything you need to support your gut and hormones...and it tastes delicious! So good, I often have to stop myself from having a second one later in the day.
Let's talk about the ingredients and why they are important:
Full Fat Coconut Milk: Healthy fats are necessary in order to manufacture sex hormones. In addition, fat helps to keep blood sugar stable. Unbalanced blood sugar is a recipe for hormonal disaster. Coconut is one of the most fibre-rich foods available. Not only does the gut love fibre and it helps to keep bowel motions regular...it is vital in order for us to eliminate excess oestrogen.
The liver clears the extra oestrogen and will send it down to the colon. It must bind with fibre in order to be eliminated! If it doesn't then it will get reabsorbed - which can lead to oestrogen dominant conditions like endometriosis, adenomyosis, fibroids and PCOS (in some cases).
Unripe Banana: Lower in sugar, which is important for blood sugar regulation and the management of oestrogen dominant conditions.
Cacao Powder: Antioxidant effect, which is important, especially for women with endometriosis. It is also a source of fibre!
Natural Peanut Butter: A source of healthy fat
Cinnamon: Helps to regulate blood sugar
Celtic Sea Salt; Contains naturally occurring iodine, which is vital to make thyroid hormone. *Avoid in cases of hyperthyroidism and Grave's disease.
Pea Protein Powder: An excellent source of protein. Protein is critical to hormone health as it helps to regulate blood sugar levels. I like pea protein as it doesn't contain the top sensitivities - whey and casein - found in dairy.
Collagen Powder: Helps to heal and seal the lining of the digestive tract and is another awesome source of protein
MCT Oil: A source of healthy fat, but it also contain caprylic acid, which can kill Candida and some of the bad bacteria found in the gut.
The Ultimate Gut & Hormone Loving Smoothie contains a good hit of calories as well. This is really important to hormone health. We want to eat about 450 - 500 calories at breakfast to support hormone health and blood sugar regulation.
Don't be afraid of calories from healthy sources!
2 Tbs- 1/4 cup Ayam Full Fat Coconut Milk

Filtered Water, add as much or as little as you like to get your smoothie to the consistency you like

Pinch Celtic Sea Salt

2 Dashes Cinnamon

1 Heaped Tbs Cacao Powder

1 tsp - 1 Tbs MCT Oil

1 serve Vanilla Pea Protein (I like Vital Protein)

1.5 Tbs Nutra Organics Collagen Build (use this one as it has the highest protein content)

1 Heaped Tbs 100% Natural Peanut Butter

1/2 Unripe Banana
Add everything to a high speed blender, like a VitaMix or ThermoMix

Blend

Enjoy!