Jen Knutson
Beef, blood sugar, Bone Broth, brunch, Dinner, food as medicine, hormone health, insulin resistance, Keto, low-carb, Lunch, Main, nutritional medicine, Paleo, PCOS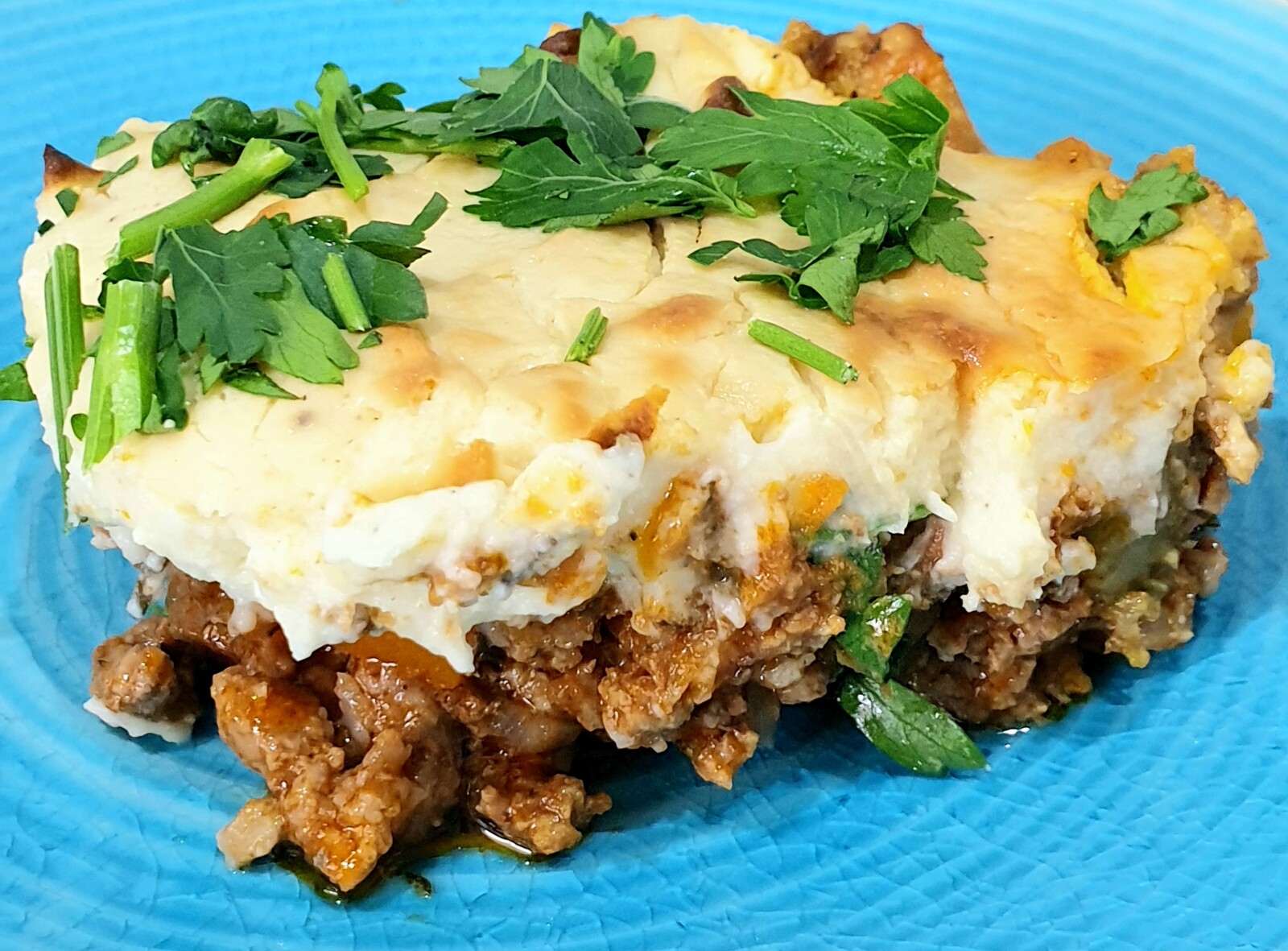 When I was 24 I moved to London. What an incredible experience that was! I stayed for two years, but would have absolutely stayed longer if I could have extended my visa. One of my favourite things while living there (outside of the travel -- let's be real!) was learning about and trying new food. Sunday roast with Yorkshire pudding and gravy, toad in a hole...and Shephard's pie! I loved them all!
While I wouldn't do the Yorkshire pudding or toad in a hole now, given I eat a low-carb Paleo diet, I knew that making a tweak or two to the Shephard's pie recipe would make a delicious, healthy meal.
I swapped out the mashed potato topping for cauliflower puree. Don't get me wrong, potatoes are full of vitamins and minerals and can be a healthy food for some. However, for me, and for those wanting to support their hormone health, potatoes simply deliver too many carbohydrates in one hit, making it more likely for blood sugar to spike.
In hormone cases, especially PCOS where insulin resistance is often a key feature, it is important to keep blood sugar stable. Thus, using cauliflower instead of potatoes is a better option.
This meal is seriously healthy. It is chock full of vegetables, animal protein, healthy fat and bone broth. But guess what? It is delicious! I have no doubt that even the kids will love it!
2 Heads Cauliflower

1/2 Large Brown Onion

5 Large Cloves Garlic

3 Large Carrots

3 Large Celery Stalks

4 Tbs Tomato Paste

1 1/2 Cups Chicken Bone Broth

1kg Grass-Fed Beef Mince

1 1/2 tsp Dried Thyme

1 1/2 tsp Dried Rosemary

6 Tbs Grass-Fed Ghee

Celtic Sea Salt and Black Pepper to Taste
Heat oven to 180° C.

Cut cauliflower into small florets and place in a large pot

Boil until tender

Strain cauliflower and pop into a Vitamix, Thermomix or food processer

Add 4Tbs ghee and salt and pepper to taste

Blend until smooth

While the cauliflower is cooking, add 2Tbs ghee to a large pan on medium-high heat

Dice onion, garlic, carrot and celery and add to pan. Cook 5 minutes

Add tomato paste and bone broth to the pan and let simmer 15 minutes or until the carrot is soft

While that is cooking, in a separate pan, brown the beef mince. Season with thyme, rosemary, salt and pepper

When the carrots are soft, add the beef mince to this mixture and mix well

Spoon the beef mixture into a 9 x 13 baking pan

Top with the cauliflower puree

Bake 30 minutes

Turn up the heat to 20

0° C and cook a further 15 minutes or until the top is golden brown

Remove from oven and top with parsley

Enjoy!